Reseller 12-Bottle Purchase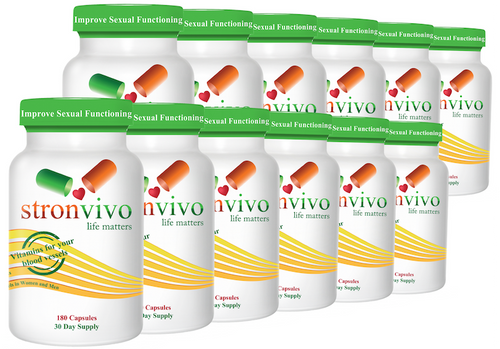 Special Price
Sale price Price $ 149.99 Regular price
Stronvivo is a certified Nitric Oxide Booster that improves circulation and helps patients feel better. Many doctors prescribe Stronvivo to their patients who are in need of more Nitric Oxide.
According to the American Heart Association and published in the journal Circulation in 2007, people 55+ produce less than 1/3 of the Nitric Oxide that they produced at 21.
Stronvivo is a certified nutritional supplement comprised of natural, verified, pharmaceutical-grade ingredients designed to improve the health of the endothelium, stimulate the production of nitric oxide, improve circulation, boost energy, and improve mood. Stronvivo supports healthy hormone levels and is the perfect companion for testosterone.
Vitamins for your blood vessels. Stronvivo Nitric Oxide booster improves circulation and supports lower blood pressure and healthy hormone levels.
Stronvivo is safe, natural, certified and effective.
Suggested Use
With or without food, take 6 capsules daily - 3 in the morning and 3 in the evening. For best results as shown in the clinical studies, use for a minimum of 6 to 8 weeks.
How many bottles should I order?
In order to get the full benefits of Stronvivo, we recommend purchasing and saving more with our discounted three bottle (90 Day) or wellness subscription packages. This will ensure you have enough supply on hand to achieve your goals, while taking advantage of the best pricing and free shipping.
What quality standards are in place?
All our products are manufactured in the United States of America under strict federal guidelines to ensure quality. Fillers, binders, and other artificial additives are never used in our manufacturing process. Facilities are FDA registered and inspected to cGMP standards, exceeding FDA 21 CFR Part 111 regulations.
How long will it take to see results?
Most customers report that they start experiencing relief within a few days. Stronvivo is formulated for long-term use, however, some of the ingredients in this supplement take time to achieve their full effect. We recommend you continue taking the supplement for at least 6 to 8 weeks to enjoy the full benefits.
Is it safe to order online from your website?
Yes. We incorporate physical, electronic, and administrative procedures to safeguard the confidentiality of your personal information, including Secure Sockets Layer (SSL) for the encryption of all financial transactions through the website.
How long does shipping take?
Most orders are processed within 1 business day. Standard US shipping is 2 to 4 business days and international shipping is 7 to 14 days. Tracking number will be immediately provided once shipped.
Can I take it with prescription medicine?
Stronvivo is formulated to be well tolerated with most prescription medicine. We strongly recommend you consult with your health care practitioner for more information.
Where can I learn more about healthy blood flow and lowering my pressure naturally?
Check out our blood flow playlist on our YouTube channel HERE
There are also a number of resources on our blog HERE
What if this product does not work for me?
If you are not satisfied with your purchase for any reason, just let us know. Your personal results may vary; however, each order is backed by our 100% money back guarantee. We have the best protection in the industry so you can try our products without worry.